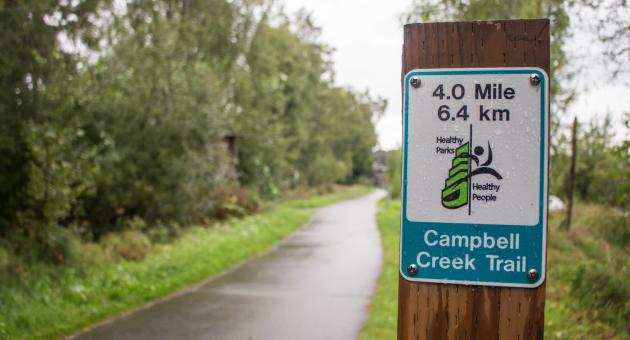 Difficulty

Moderate

Distance

7.5 ml

Duration

2.54 hr

Ascent

554 ft
Best Time of Year: Apr 01 - Oct 31
Explore this great city center trail, perfect for mountain biking and walking.
The southernmost of Anchorage's cross-city trails, the 7.5-mile Campbell Creek Trail connects the sprawling trail systems of Far North Bicentennial Park to Campbell Lake in southwest Anchorage.
It passes dense greenbelts, sprawling neighborhoods, and busy commercial areas, following the Campbell Creek watershed as the creek flows toward Cook Inlet. Watch for salmon in the stream, and moose and other wildlife along the way.
Multiple playgrounds and parks along the route make the Campbell Creek Trail ideal for family outings, and restaurants and breweries located conveniently close to the trail make it the perfect location for a lunchtime ride punctuated by a juicy burger and fresh Alaska brew. Taku Lake, nestled near the trail's midway point, offers opportunities to fish for rainbow trout and Arctic grayling.
The Campbell Creek Trail is also an important part of Anchorage's Moose Loop route, connecting the Tony Knowles Coastal Trail, Lanie Fleischer Chester Creek Trail, and the Ship Creek Trail to form a 32-mile loop tracing the profile of a moose over the Anchorage Bowl.
Find trail access points throughout the city. Parking is available at Taku Lake Park and by the trailhead at Campbell Park off Elmore Road, and the trail is easily accessible from the University of Alaska Anchorage and Alaska Pacific University campuses.
Dogs on a leash allowed.