Visit Anchorage Member Logo
Show visitors your business is a member of Visit Anchorage, one of the largest membership organizations in Alaska. Add the Visit Anchorage Member Logo to your website, brochure or other promotional efforts.
1. Download the Visit Anchorage Member Logo for use in print, click here.
Should you require an alternate version of the logo (TIFF, EPS, etc.) please contact web@anchorage.net.
2. Add the Visit Anchorage Member Logo to your website. The logo will appear on your website as follows:

Simply download the HTML code in the Word doc on to the web page(s) you'd like the logo to display on or provide this document to your website manager.
Stay and Play in Anchorage
Support your spring marketing efforts through Visit Anchorage's spring Stay and Play campaign: Click the logos below to download (and click here to submit a special offer to share with Alaskans on our website, through e-newsletters, and other platforms). Click here to download a white .png version of the spring Stay and Play logo.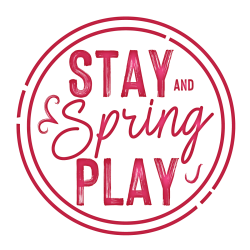 Select from a full menu of advertising options designed to engage visitors and get them through your door.
Visit Anchorage encourages its members to share the benefits they receive from membership with other...
Our password-protected center gives you complete control over what visitors see about your business on...