Anchorage Weather
Protected by the Chugach Mountains and warmed by currents of the Pacific Ocean, Anchorage's climate is mild. Summer temperatures here get into the low 70s. In winter, high temps in the mid 20s keep plenty of snow on the ground. On long summer days, the sun still sets (for a few hours), and that means that even the shortest winter days still have more than 7 hours of functional daylight.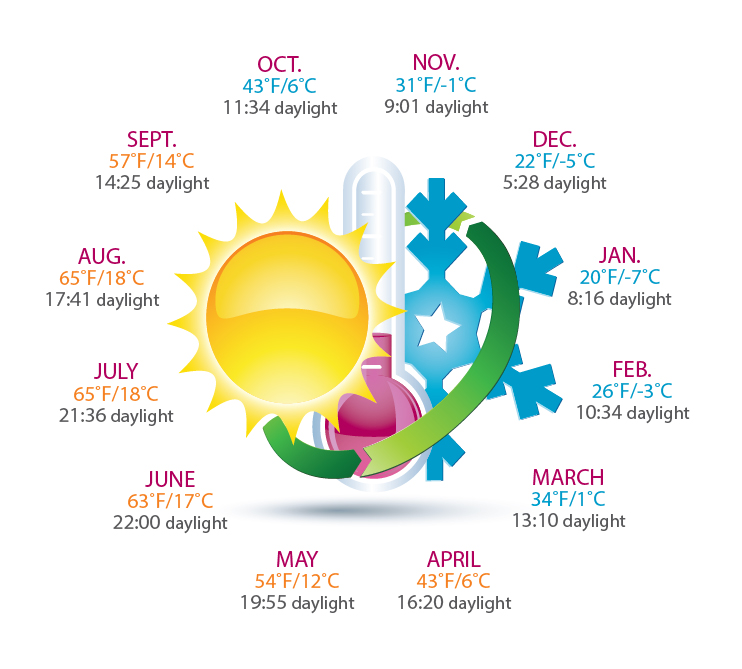 Location
Anchorage is near 61 degrees north latitude: about as far north as Stockholm, Sweden. To reach the Arctic Circle, you'd have to travel north another 400 miles.
Alaska is a big place, and varied terrain means many different climates in the state, from Pacific Northwest coastal rainforest to permafrost and tundra in the far north. Anchorage's special location keeps it drier than Southeast Alaska, warmer than the interior in winter, and less windy than in the southwest portion of the state.
Packing Suggestions
Packing for a visit to Anchorage can be summed up in one word: layers. The key to comfort in Alaska is layering clothing. If the breeze picks up on a day cruise, you might want a windproof, waterproof coat. Standing atop a glacier in the mountains, you may want a sweater or fleece. Then again, when you stop for lunch on a sun-soaked deck, you'll want to be able to cool off in short sleeves or thinner materials. Just add or subtract layers as needed. Anchorage gets up to 22 hours of daylight in summer; sunglasses are a good idea too. Casual, comfortable dress is acceptable across Alaska. If you forget something, Anchorage retailers have it.